Q-Plex™ SARS-CoV-2 Human IgG Quantitative (4-Plex)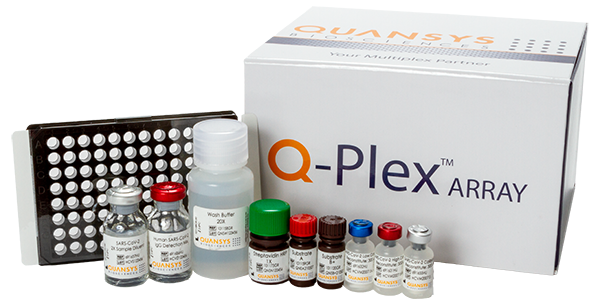 Q-Plex SARS-CoV-2 Human IgG Quantitative (4-Plex)
Species Specificity: Human
Validated Sample Type: Human Serum, Plasma
Sample Volume Required: Min. 2 µL
Estimated Assay Length: 2 hours
Intra-Assay Cross-Reactivity: See Assay Validation Below
Assay Type: Indirect
Detection Method: Chemiluminescent
Multiplex Format: 96-well solid plate
Catalog: #711649HU

Evaluating the S1 and S2 simultaneously allows for greater clinical sensitivity and specificity.
The Q-Plex SARS-CoV-2 Human IgG Quantitative (4-Plex) multiplex assay is a quantitative enzyme-linked immunosorbent assay that measures IgG antibodies to SARS-CoV-2 in human serum or plasma. SARS-CoV-2 is the novel coronavirus that causes COVID-19. The SARS-CoV-2 virus has several structural proteins including two spike proteins, S1 and S2. When an individual is infected with the SARS-CoV-2 virus, their immune system produces antibodies to these viral proteins. The typical immune response produces detectable antibody levels around eight to ten days following the onset of symptoms.
The Q-Plex SARS-CoV-2 Human IgG Quantitative (4-Plex) Multiplex ELISA measures IgG antibodies to both the S1 and S2 spike proteins present in a blood sample. The assay only quantifies IgG antibodies, not other classes of antibodies such as IgM or IgA.
The multiplex assay allows for simultaneous indirect ELISA on the following four printed spots:
SARS-CoV-2 Spike Glycoprotein (S1), a recombinant antigen which contains amino acids 1-674 of subunit 1. Spike S1 is expressed in mammalian HEK293 cells with a Sheep Fc-Tag.
SARS-CoV-2 Spike Glycoprotein (S2) is a recombinant antigen which contains the Spike subunit 2 protein, amino acids 685-1211. Spike S2 is expressed in mammalian HEK293 cells with a Sheep Fc-Tag.
Sheep Fc, is a negative control to ensure no cross-reactivity occurs between human IgGs in the sample and the Fc-Tag on the SARS-Cov-2 Spike proteins.
Anti-Human IgG is a positive control to ensure the kit performs and the IFU was followed correctly.
Kit Content
Each kit contains a 96-well plate, featuring the relevant biomarker panel in each well, and all reagents required to perform testing.
Reagents Include:
Detection Mix
Controls
Substrate
Sample Diluents
Streptavidin HRP
Wash Buffer
Processing
All Quansys Q-Plex™ Multiplex and Singleplex assays require the use of the Q-View™ software to read and interpret the test results. A fully-functional, free trial version of the software is available to download, install, and use to analyze your first kit(s). At the end of the trial period, a purchased license is required to continue the use of the Q-View software.
Q-Plex arrays are developed and optimized to work with Q-View imagers. Quansys does not guarantee the results obtained from other imagers and not all imagers are compatible with Quansys Q-Plex arrays.
Not Finding What You Need?
Not seeing the biomarker or analyte you need? Customize your kit! The Q-Plex™ Custom Assays are fully quantitative ELISA-based Chemiluminescent assay kits allowing the concurrent measurement of up to 18 biomarkers or analytes.
Choose up to 18 different biomarkers that will work best for your research. Send in your samples and let us run them for you. 
Have questions about the kit or interested in more information? Contact one of our representative to get all your questions answered. 
As researchers and problem solvers ourselves, we understand the value of sound data. We are proud to be a part of research that can better the world. We value the relationships, partnerships, and friendships that we have built with the people who trust and use our technology. We are committed to building these relationships. You can count on us to answer the phone and take time to thoroughly address questions or concerns about any of our products. In an industry that is reputed for grandiose claims, we trust that our quality standards and our customer service set us apart from the competition. If you're happy with our products or if you think we can do something better, we hope you will let us know.
365 North 600 West Logan, UT 84321