Sample Testing Quote Request
Requirements:
1. Sample Types – The samples can be serum, plasma, cell culture supernatant, cell lysate, cell culture media, and/or tissue homogenates. Make sure to specify the type of sample and buffer constituents used for the samples on the form. Clearly label each vial using permanent marking and provide a list of the samples in the shipment.
Note: Due to the variety of methods and materials used in preparation, tissue homogenates and cell lysates have not been validated for this service. If you choose to send these samples types, please be aware we are unable to guarantee satisfactory results.
2. Sample Volume – It is optimal for 200 μl of each sample to be sent per array. Based on your request, an additional volume may be needed. This volume allows for triplicate testing of each sample.
3. Minimum Number of Samples – 8 samples per array is required. Please contact Quansys for price quotes if requesting sample testing for less than 8 samples.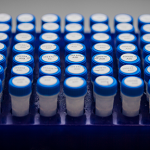 4. Sample should be shipped overnight, Monday through Thursday, frozen with 3-5 lbs dry ice. Protect the samples from damage by putting them in a box or wrapped in bubble wrap and not loose among the dry ice as this will damage the vials and labeling.
5. For research use only. Not intended for diagnostic applications.
Sample Results: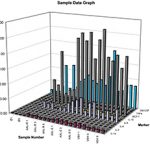 1. Turn Around Time – A completed report of the samples will be emailed to the customer. Typical turnaround times range from 5 days to 10 days based on the assays requested. The quote provided to the customer will give a firm estimate of the time to receive data.
2. Reporting Results – All results will be reported in a Microsoft Excel spreadsheet format. The spreadsheet will contain raw data, charts, and calculated concentrations derived from regression models from each of the samples tested. A written report explaining the technology is also provided.
3. Samples will be destroyed 3 months after the date of receipt. If requested at the time the order is placed samples will be returned to the customer at the customer's expense.
To obtain a quote for sample testing, start by selecting your sample species: