Custom Assay Development
Q-Plex™ Technology offers quality imaging and data analysis
for every application and budget
Quansys offers top-of-the-line ISO 13485 certified assay development
Assay Development
Quansys offers over 15 years experience developing sensitive and specific multiplex arrays for use in a wide variety of applications. Our highly qualified team of assay developers, engineers, product managers, and specialized quality team can build a multiplex tool to meet your research needs.
Our highly efficient system allows us to keep costs low and assay accuracy high. Using our controlled manufacturing environment, we produce specialized multiplex ELISA kits with lyophilized reagents for long-term stability. We can also develop controls used for standard curve generation. Costs to develop a custom ELISA array will vary depending on the availability of reagents, the types of biomarkers desired, and the time involved to develop, optimize, and validate the ELISA array.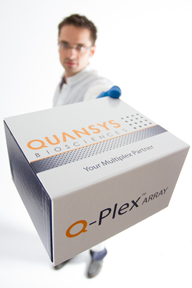 Initial Feasibility
Milestone I — Proof of Concept
Qualitative assays built
Reagent functionality and compatibility tested
Antibody and matched pair tested
Foreground to background determination
Intra-panel cross reactivity tested
Milestone II — Assay Optimization & Characterization
Array Optimization
Calibrator formulation

Detection
Diluent optimization
Referencing standard
Protocol and incubation times
 Characterization

 Precision

Linearity/recovery
Sensitivity
Cross-reactivity
Backfit
Sample correlation
Interference
Milestone III — Iterative Design & Design Verification
Performance Verification

Precision
Linearity/recovery
Sensitivity
Cross-reactivity
Backfit
Drift
Edge effect
Sample correlation
Interference

Beta Kit Production
Pilot Production & QC Release

Create production documentation
Prepare plates and reagents
QC testing and release
Contact us to discuss how our combination of development and manufacturing services can lead to your success.
As researchers and problem solvers ourselves, we understand the value of sound data. We are proud to be a part of research that can better the world. We value the relationships, partnerships, and friendships that we have built with the people who trust and use our technology. We are committed to building these relationships. You can count on us to answer the phone and take time to thoroughly address questions or concerns about any of our products. In an industry that is reputed for grandiose claims, we trust that our quality standards and our customer service set us apart from the competition. If you're happy with our products or if you think we can do something better, we hope you will let us know.
365 North 600 West Logan, UT 84321