Q-Plex™ Human Chemokine (4-Plex)
Q-Plex™ Product Overview
Product Overview
The Q-Plex Human Chemokine (4-Plex) is a fully quantitative ELISA-based chemiluminescent assay allowing concurrent measurement of four biomarkers or analytes (IL-8, IP-10, MCP-1, Rantes).
Each kit contains a 96-well plate, with each well featuring the relevant biomarker panel, and all the reagents required to perform testing. Q-Plex plates are built by absorbing four distinct capture antibodies in a defined array to the bottom of each well. Our high-quality reagents help ensure the accuracy of your results.
Using only 25 µl of sample per well, up to 80 samples can be assayed for all four markers in the panel in 2.25 hours. Q-Plex™ Arrays provide scientists with an easy-to-use and cost-effective means of generating a cytokine profile for each sample.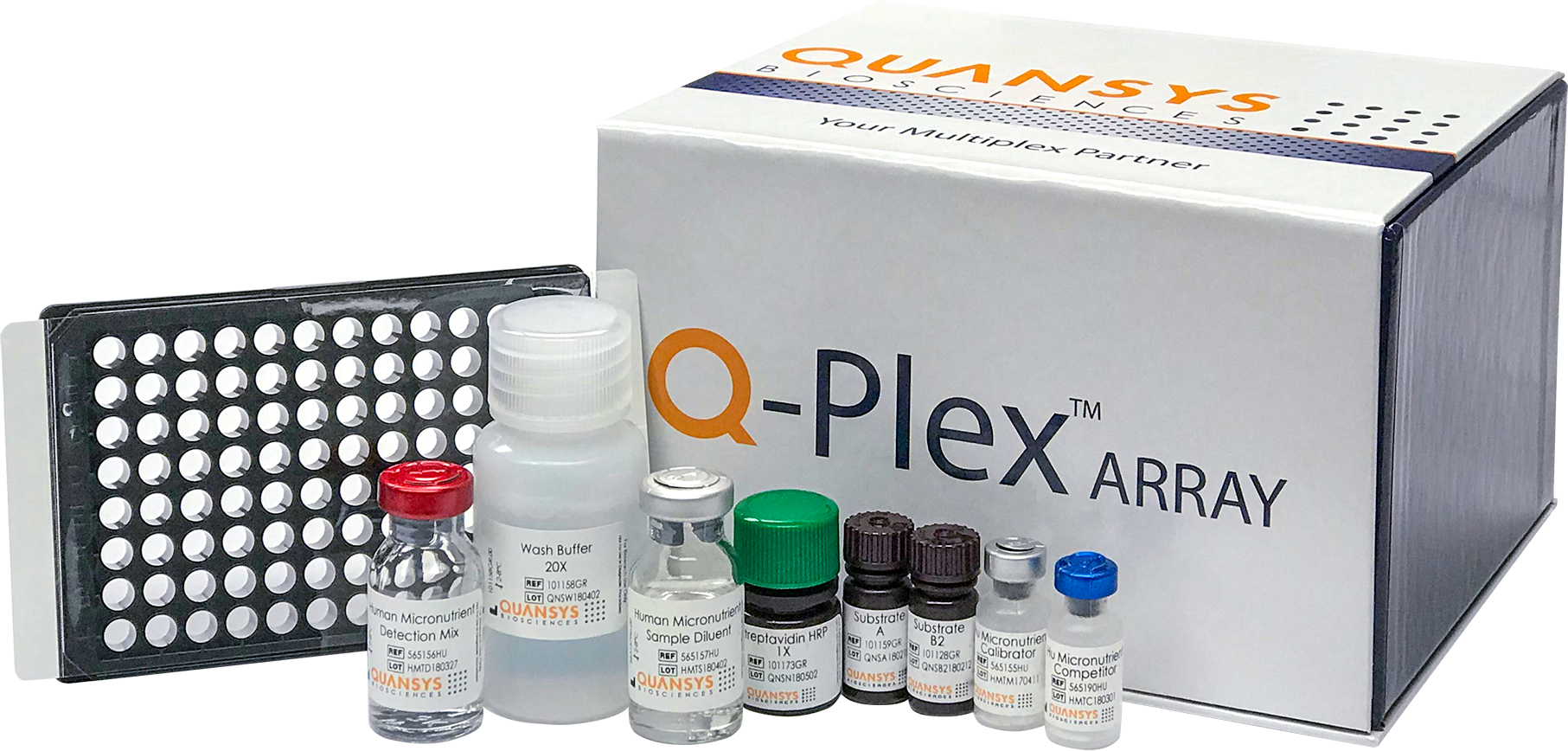 Q-Plex Human Chemokine (4-Plex)
For measurement of IL-8, IP-10, MCP-1, Rantes
Interleukin 8 (IL-8), also known as CXCL8, is a chemokine that plays a role in the recruitment and regulation of white blood cells during an innate immune response. It is a strong chemoattractant for neutrophils and other granulocytes, bringing them to the site of infection and then stimulating them to engage in phagocytosis. It is commonly secreted by macrophages that have identified a foreign pathogen but may be emitted by any cell with toll-like receptors. IL-8 plays a key role in metastasis; it was first identified as a leukocyte chemoattractant that progresses melanoma by directly inducing angiogenesis and migration of melanoma cells. Serum IL-8 levels are directly correlated with the degree of metastatic melanoma and overall tumor count. High levels of IL-8 in a pregnant mother are associated with schizophrenia in her child and high levels in adults with schizophrenia reduces the effectiveness of antipsychotic medications. IL-8 dysregulation is also involved in cystic fibrosis, where it recruits an excessive number of white blood cells to the lungs, resulting in tissue damage.
Interferon gamma-induced protein 10 (IP-10), also known as C-X-C motif chemokine 10 (CXCL10) or small-inducible cytokine B10, is a small cytokine with diverse roles in the immune system. Many cell types release IP-10 in response to stimulation from IFN-γ. It has chemotactic properties for activated T cells, monocytes, macrophages, natural killer cells, and dendritic cells. It promotes the adhesion of T cells to endothelial cells and has strong anti-tumor properties. It inhibits bone marrow colony formation and angiogenesis. IP-10 expression has been associated with HIV-1 infection, where it contributes to the accumulation of activated T cells in the cerebrospinal fluid compartment of infected individuals. The retroviral transactivator, HIV-1 Tat, is a potent inducer of IP-10 expression in astrocytes. IP-10 expression has also been shown to be significantly elevated in astrocytes within the brains of Alzheimer's disease patients, where its expression is associated with senile plaques. Higher levels of IP-10 are documented in Hepatitis C patients who respond poorly to antiviral treatment.
Monocyte chemoattractant protein 1 (MCP1), also known as chemokine (C-C motif) ligand 2 (CCL2) and small inducible cytokine (A2MCP-1), is a chemokine that plays a role in the body's response to tissue injury and infection. It is produced by many cell types in response to tissue damage, and is a chemoattractant to monocytes, basophils, memory T cells, and dendritic cells. MCP-1 is commonly found at the site of tooth and bone injuries or infections, where it is expressed by osteoclasts and osteoblasts. It is also produced by cells of the nervous system and is implicated in many inflammatory neurological disorders. Elevated MCP-1 levels are often associated with sepsis, Crohn's disease, lupus nephritis, amyotrophic lateral sclerosis, multiple sclerosis, rheumatoid arthritis, acute pancreatitis, and atherosclerosis. MCP-1 is also upregulated in several cancers including gastric carcinoma, esophageal squamous cell carcinoma, malignant glioma, and ovarian, pancreatic, bladder, and breast cancers.
Regulated on activation, normal T cell expressed and secreted (RANTES), also known as Chemokine (C-C motif) ligand 5 (CCL5) is a cytokine that mediates inflammatory response of the immune system. It is chemotactic to T lymphocytes, basophils, and eosinophils. RANTES activates and increases the cytotoxicity and proliferation of natural killer cells. It is secreted by fibroblasts, platelets, and T cells at the site of inflammation. RANTES is also involved in the progression and metastasis of some malignant tumors where it may promote migration of cancer cells. Its expression is upregulated in the white adipose tissue of obese individuals and may be involved in obesity related inflammation. RANTES is strongly HIV suppressive, preventing replication of certain HIV strains and is currently under investigation as a therapeutic for the virus.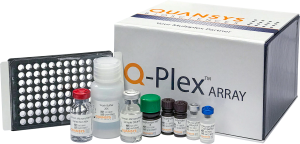 Each kit contains a 96-well plate, featuring the relevant biomarker panel in each well, and all reagents required to perform testing.
Reagents Include:
Calibrator
Detection Mix
Substrate
Sample Diluents
Streptavidin HRP
Wash Buffer
All Quansys Q-Plex™ Multiplex and Singleplex assays require the use of the Q-View™ software to read and interpret the test results. A fully-functional, free trial version of the software is available to download, install, and use to analyze your first kit(s). At the end of the trial period, a purchased license is required to continue the use of the Q-View software.
Q-Plex™ arrays are developed and optimized to work with Q-View™ imagers. Quansys does not guarantee the results obtained from other imagers and not all imagers are compatible with Quansys Q-Plex arrays.
As researchers and problem solvers ourselves, we understand the value of sound data. We are proud to be a part of research that can better the world. We value the relationships, partnerships, and friendships that we have built with the people who trust and use our technology. We are committed to building these relationships. You can count on us to answer the phone and take time to thoroughly address questions or concerns about any of our products. In an industry that is reputed for grandiose claims, we trust that our quality standards and our customer service set us apart from the competition. If you're happy with our products or if you think we can do something better, we hope you will let us know.
365 North 600 West Logan, UT 84321