Human IL-6 Analyte Overview
Human IL-6
Also known as
Interleuken 6
Interleuken 6 (IL-6) has the capability to behave as both a pro-inflammatory cytokine and an anti-inflammation myokine. As a cytokine, it is secreted by macrophages in response to microbial activity, to  regulate the progression of fever through raising the temperature of muscle and fat, as well as crossing the blood-brain barrier to alter the body's temperature set point in the hypothalamus. It acts through T cells and macrophages fighting infection and causing inflammation. As a myokine, it is released by contracting muscles during exercise, and inhibits the activity of pro-inflammatory agent TNF-alpha, reducing system-wide inflammation. In addition to its functions in the immune system, IL-6 aids in bone remodeling and maintenance by stimulating the production of osteoclasts. Clinically, IL-6 is implicated in the inflammatory and autoimmune symptoms of many diseases, including diabetes, asthma, atherosclerosis, depression, Alzheimer's disease, rheumatoid arthritis, and many cancers. High levels of IL-6 are common in advanced cancer patients and are correlated with low survival rates. IL-6 has the ability to induce epigenetic modifications of gene transcription in the brain, and these IL-6 modifications are associated with schizophrenia and major depressive disorder.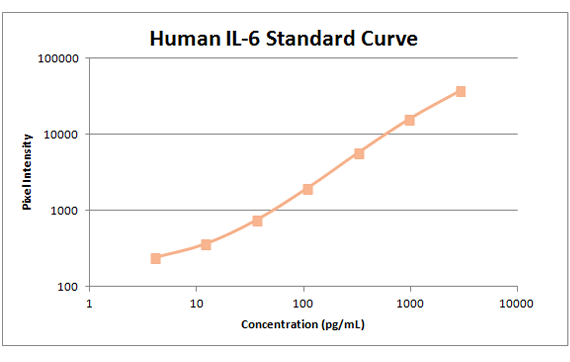 Species: Human
Assay Type: Sandwich
Sample Type: Human Serum, EDTA Plasma
Assay Range: 3000 – 4.11 pg/ml
Lower Limit of Detection (LLD): 3.47 pg/ml
Volume Required Per Well: Min 25µl
Detection Method: Chemiluminescent
Singleplex Format: 96-well plate
Catalog No: 466449HU
Measure IL-6 in 2.25 hours
Sensitive, reproducible, and convenient 96-well format requiring low sample volumes
IL-6 Assay Performance Characteristics
Intra-assay (n=20)
Average Intra-assay CV: 7%
| | | |
| --- | --- | --- |
| Sample | Concentration (pg/ml) | %CV |
| Sample 1 | 594.53 | 8% |
| Sample 2 | 47.69 | 6% |
| Sample 3 | 16.35 | 8% |
Inter-assay (n=15)
Average Inter-assay CV: 7%

| | | |
| --- | --- | --- |
| Sample | Concentration (pg/ml) | %CV |
| Sample 1 | 2272.50 | 7% |
| Sample 2 | 291.94 | 9% |
| Sample 3 | 738.57 | 5% |
Average percent linearity: 104%
Percent linearity range: 94 – 111%
Dilution Factor
% Recovery
Serum HA
Serum HB
Serum HC
Pooled Plasma
2
104%
111
103%
111%
4
107%
108%
102%
104%
8
101%
107%
94%
94%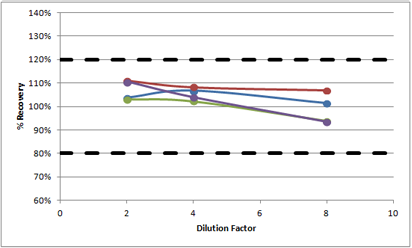 Q-Plex Multiplexed Products featuring IL-6
Q-Plex Products featuring IL-6
As researchers and problem solvers ourselves, we understand the value of sound data. We are proud to be a part of research that can better the world. We value the relationships, partnerships, and friendships that we have built with the people who trust and use our technology. We are committed to building these relationships. You can count on us to answer the phone and take time to thoroughly address questions or concerns about any of our products. In an industry that is reputed for grandiose claims, we trust that our quality standards and our customer service set us apart from the competition. If you're happy with our products or if you think we can do something better, we hope you will let us know.