Q-Plex™ Human Environmental Enteric Dysfunction (11-Plex)
Human Environmental Enteric Dysfunction (11-Plex)
Background
Environmental enteric dysfunction (EED) is characterized by inflammation at mucosal sites, reduced intestinal barrier integrity, and poor absorption of nutrients. EED is common among people living in low-resource settings with high enteric-pathogen prevalence and poor sanitation. Complications related to EED include stunted growth, reduced responsiveness to vaccines, and impaired cognitive development. Children are therefore especially at risk as these severe complications increase susceptibility to other childhood diseases such as pneumonia, acute diarrhea, and malaria.
Developed in collaboration with PATH, the Q-Plex™ Human Environmental Enteric Dysfunction (11-Plex) is a rapid, robust, and effective tool for screening individuals and populations at risk for or suffering from EED related malnutrition in clinical research. By generating a profile of an individual's nutritional and inflammatory biomarkers, the array accelerates the identification and deployment of effective interventions.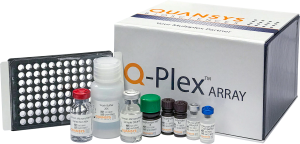 Human Environmental Enteric Dysfunction (11-Plex) details
Species: Human
Assay Type: Planar Based Multiplexed ELISA
Sample Type: Human Serum, Heparin Plasma
Assay Duration: 3.5 hours
Specificity: All analytes < 1% intra-panel cross-reactivity
Sample Volume Required Per Well: Min 5 µL
Detection Method: Chemiluminescent
Multiplex Format: 96-well solid plate
Catalog No: 569849HU
Measure 11 Human Environmental Enteric Dysfunction specific analytes AGP, CRP, Ferritin, FGF21, HRP2, I-FABP, IGF-1, RBP4, sCD14, sTfR, and Tg
Sensitive, reproducible, and convenient 96-well format requiring low sample volumes
α-acid glycoprotein (AGP) is an acute-phase protein produced primarily in the liver and found in plasma. Levels in the plasma are affected by pregnancy, infection, and other diseases. Plasma levels of AGP reach high values within 4-5 days post-infection and remain elevated for several days. Along with levels of CRP, the concentration of AGP is used as a correction value for ferritin.
C-reactive protein (CRP) is an acute-phase protein that is a commonly used biomarker of inflammation. Like AGP, it is produced in the liver and levels rise in response to infection or at sites of inflammation, sometimes up to a 1000-fold increase. Unlike AGP, concentration of CRP in the serum drops precipitously after the inflammatory stimuli are removed. Along with AGP, concentration of CRP is used as a correction value for ferritin levels.
Ferritin is the major carrier of iron in the blood. Iron deficiency anemia is linked to reduced physical activity in adults and impaired brain development in children. Ferritin is a good indicator of iron levels as its concentration declines early on during iron deficiency anemia. However, ferritin levels are also known to increase in response to inflammation independently of iron status. AGP and CRP may be used as corrective values for ferritin levels.
Fibroblast growth factor 21 (FGF21) is an endocrine hormone produced in the liver that helps regulate the intake of simple sugars in adipocytes, but not in other cell types. Levels of FGF21 increase when the diet has low amounts of protein. Its presence is suggestive of growth hormone resistance and is associated with an increased risk of growth faltering during nutritional supplementation.
Histidine-rich protein 2 (HRP2) can be used as a diagnostic test for infection by Plasmodium falciparum. HRP2 secreted by the parasite can be found in the blood, urine, and cerebrospinal fluid.
Intestinal fatty acid-binding protein (I-FABP) belongs to a family of transport proteins for fatty acids across the intestinal wall. I-FABP is associated with growth stunting and future risk of growth faltering.
Insulin-like growth factor 1 (IGF-1) is a hormone produced mainly in the liver in response to growth hormone. Low levels of IGF-1, in the context of high levels of growth hormone, have been associated with undernutrition.
Retinol binding protein 4 (RBP4) is a transporter protein for vitamin A, also known as retinol. It is primarily produced in the liver and forms a complex with transthyretin and retinol to deliver retinol to peripheral tissues. RBP4, like retinol, is produced under homeostatic conditions and does not rise in case of vitamin A increase, however, both decline in response to vitamin A deficiency making RBP4 a good surrogate biomarker.
soluble CD14 (sCD14) is a marker of monocyte activation which is triggered by exposure to lipopolysaccharide (LPS). It indicates the presence of gram-negative bacteria. Elevated levels of sCD14 have also been associated with future risk of growth faltering, poor immune response to oral immunizations, and poor cognitive test scores in childhood.
Iron transport in the blood serum is carried through interactions between transferrin and its receptor. Soluble transferrin receptor (sTfR) is a form of the transferrin receptor lacking the first 100 amino acids and usually circulates in the blood as a complex with transferrin. Levels of sTfR are indicative of functional iron levels. The combined measurement of sTfR and ferritin allows data to be displayed as the ratio of sTfR/ferritin to reflect the depletion of body iron stores.
Thyroglobulin (Tg) is produced in the thyroid for use within the organ. It plays an important role in the synthesis of thyroid hormones thyroxine and triiodothyronine. Micronutrient deficiency is known to induce thyroid dysfunction causing an increase in serum Tg.
Performance and Validation Data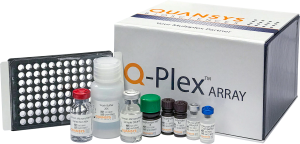 Each kit contains a 96-well plate, featuring the relevant biomarker panel in each well, and all reagents required to perform testing.
Reagents Include:
Calibrator
Competitor
Detection Mix
Substrate
Sample Diluents
Streptavidin HRP
Wash Buffer
All Quansys Q-Plex™ Multiplex and Singleplex assays require the use of the Q-View™ software to read and interpret the test results. A fully-functional, free trial version of the software is available to download, install, and use to analyze your first kit(s). At the end of the trial period, a purchased license is required to continue the use of the Q-View software.
Q-Plex arrays are developed and optimized to work with Q-View imagers. Quansys does not guarantee the results obtained from other imagers and not all imagers are compatible with Quansys Q-Plex arrays.
As researchers and problem solvers ourselves, we understand the value of sound data. We are proud to be a part of research that can better the world. We value the relationships, partnerships, and friendships that we have built with the people who trust and use our technology. We are committed to building these relationships. You can count on us to answer the phone and take time to thoroughly address questions or concerns about any of our products. In an industry that is reputed for grandiose claims, we trust that our quality standards and our customer service set us apart from the competition. If you're happy with our products or if you think we can do something better, we hope you will let us know.
365 North 600 West Logan, UT 84321